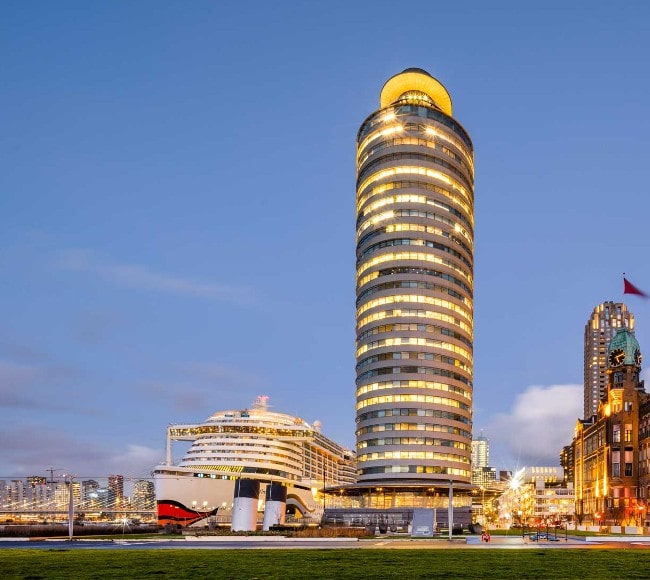 Meag has bought the World Port Center office tower in Rotterdam, Netherlands, for a real estate special fund in which Munich Re Group investors are invested.
The seller of the property is a joint venture between a fund associated with MCAP Global Finance (UK) LLP (the UK subsidiary of New York-based global asset manager Marathon Asset Management LP) and Unifore Real Estate BV.
The building is let on long term leases, with major tenants being the Port of Rotterdam Authority and the Dutch National Police.
The World Port Center, designed by Foster + Partners, is located on the "Kop van Zuid" peninsula, which is easily accessible by underground from Rotterdam Central Station.
The 123 meter high office tower in Rotterdam is located at the top of the Wilhelminapier and comprises a total of approx. 35,500 m² of modern office space spread over 34 floors. The completely renovated, two-storey car park offers 507 parking spaces, 60 of which are equipped with charging stations. The U-shaped building consists of two towers of different heights connected by a glazed elevator lobby.
The World Port Center has undergone an extensive renovation, repositioning and long-term lease from the seller. The completed work improves the building's ESG footprint and included a full renovation of the lobby and terraces, designed by renowned architecture firm Mecanoo. The property was awarded the BREEAM Excellent and a WELL Gold certificate.
Sebastian Sturm, Real Estate Transaction Manager for the Netherlands and Finland at Meag: "The World Port Center in Rotterdam impresses with its excellent location, breathtaking architecture, high construction quality and outstanding sustainability. This building thus perfectly meets our high demands on the future viability of our investment properties. The World Port Center has a long-term lease and the property offers our group's investors long-term stable cash flows to meet their core business liabilities."
Claudia Bilgic, Director at MCAP Global Finance (UK) LLP, adds: "We are proud to pass on a future-proof core investment to Meag after years of transformative asset management. The property has been significantly enhanced and leased during our ownership. We are delighted to partner with Unifore and are grateful to our tenants for their support and dedication."
Meag, the asset manager of Munich Re and ERGO, currently manages investments with a value of 309 billion euros. MEAG manages EUR 57 billion in business with institutional investors and private customers.