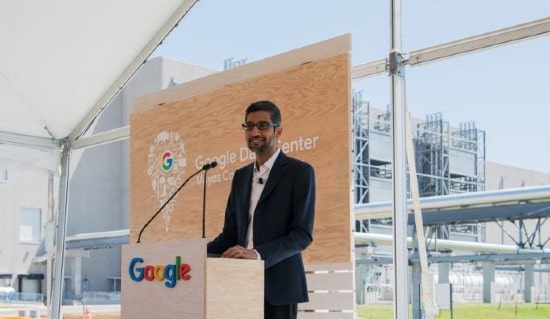 Sundar Pichai, CEO of Google and Alphabet announced that Google will invest more than $10 billion in offices and data centers across the United States in 2020.
According to the company announcement, Google has a presence in 26 states across the country and new investments will be focused in 11 states – Colorado, Georgia, Massachusetts, Nebraska, New York, Oklahoma, Ohio, Pennsylvania, Texas, Washington and California.
"These investments will create thousands of jobs—including roles within Google, construction jobs in data centers and renewable energy facilities, and opportunities in local businesses in surrounding towns and communities," said Sundar Pichai, CEO of Google and Alphabet in a blog post.
Last year, Google announced it would build new data centers and offices to expand in 14 states with $13 billion investment. Combined with other R&D investments, Google's parent company Alphabet was the largest investor in the U.S. last year, according to a report from the Progressive Policy Institute.
---
READ ALSO : Google to invest $1bn in residential housing across Bay Area
---
READ ALSO : Lendlease signs $15bn deal to develop Google's Bay Area projects
---
In addition to these investments in infrastructure and jobs, Google said it would continue its work nationally with local startups, entrepreneurs and small business owners to help Americans access new digital opportunities. Already Grow with Google and Google for Startups have trained more than 4 million Americans in hundreds of communities across all 50 states.