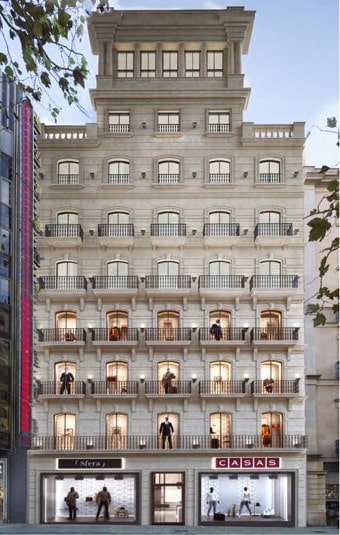 Generali Real Estate has purchased the Portal del Angel, 40 building, a historical office and high-street asset in Barcelona.
The company acquired the property on behalf of the pan-European fund "Generali Core High Street Retail Fund" (GCHSR), managed by Generali Real Estate S.p.A Società di gestione del risparmio and reserved for professional investors.
The seller of the asset is a subsidiary of the de Andres Puyol family, Medcap Real Estate.
The office asset is located in Av. Portal del Angel, one of the main high-street retail in Spain, home to most of the mass-market retailers, and access point to the historic center and all the main touristic attractions in the city.
Portal del Angel, 40 is a high-quality, fully refurbished mixed-use asset (office and high-street retail), comprising about 4,400 sqm (GLA).
The building was completely renovated in 2022 by Medcap Real Estate with excellent technical, environmental and sustainability specifications, reaching BREEAM In-Use 'Very Good' certification; it is therefore consistent with Generali Real Estate's demanding ESG quality standards.
The asset is fully let to 3 tenants with long-term lease contracts.
Generali Real Estate said the acquisition is fully in line with its strategy of investing in prime assets in the most important and resilient European cities.
"Barcelona enjoys an international reputation as a financial, cultural, touristic and transport hub. Thanks to a very solid real estate market, especially for high-quality office and commercial assets, Barcelona is one of the cities that Generali Real Estate targets in its investment strategy," the company said.
From Spain, Generali Real Estate currently manages a portfolio in Iberia worth more than € 2 bn.