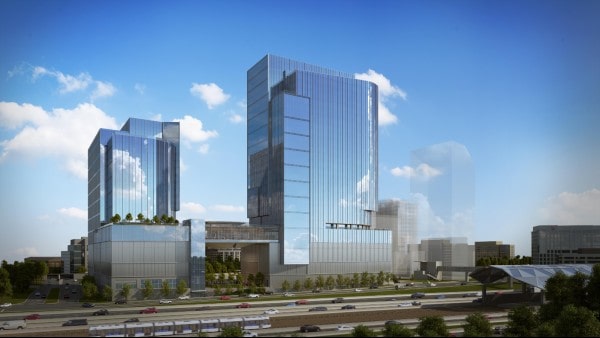 Volkswagen Group of America has signed a lease agreement with Boston Properties as an anchor tenant in Northern Virginia's Reston Town Center development.
Volkswagen Group of America (VWGoA) currently leases multiple facilities in Northern Virginia for approximately 1,000 employees of the Volkswagen, Audi, Bentley, Bugatti and Lamborghini brands and VW Credit, Inc.
This move will consolidate those employees into one location, increasing workforce efficiencies and collaboration, said the company in a statement. The move is expected to take place in late 2023.
The under-construction building, located in the Reston Town Center mixed-used development, is part of a 1.1 million square foot office complex by Boston Properties.
The new development will have in-building parking with provisions for 300 electric vehicle chargers, a conference center and direct access to the newly built Silver Line of Washington's Metrorail. VWGoA is working with Boston Properties on the features and design of the new space.
"A company focused on the future of mobility needs a future-proof workspace to match those ambitions," said Scott Keogh, President and CEO of Volkswagen Group of America. "This space is designed from the start to be efficient, collaborative and bring our team under one roof so we can keep and attract top talent."
"We are thrilled that Volkswagen has chosen Reston Town Center for their North American headquarters," said Peter Johnston, Executive Vice President, Washington, D.C. Region for Boston Properties. "Companies looking to recruit and retain the best and brightest talent continue to be drawn to Reston and Reston Town Center as the ideal location to grow their organizations."
Last year, Volkswagen began construction on an expansion of its vehicle manufacturing plant in Chattanooga, Tennessee for the eventual production of electric vehicles. This summer, VWGoA opened a new port facility in Baltimore, Md. and will break ground on an electric-vehicle battery test lab in Chattanooga next month.