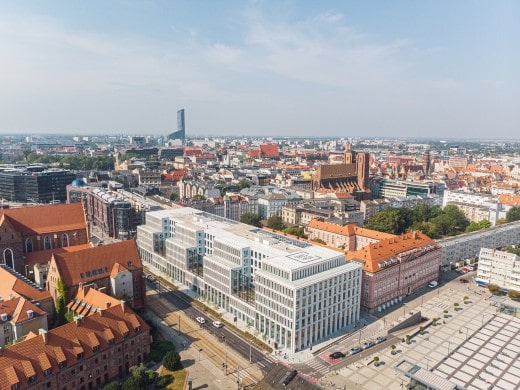 Skanska has sold a portfolio of three office buildings located in Wroclaw and Krakow in Poland to real estate funds managed by Credit Suisse Asset Management Global Real Estate for EUR 214 million(SEK 2.3 billion).
The transaction will be recorded by Skanska Commercial Property Development Europe in the third quarter of 2019.
The transaction includes the Nowy Targ project in Wrocław along with two buildings in the High5ive office complex in Krakow. The transaction's total leasable area comprises of 60,300 square meters; 22,800 square meters in Nowy Targ and 37,500 square meters in High5ive.
All three office buildings are developed in accordance with the highest standards and are expected to receive LEED Platinum as well as Building without Barriers certificates. Construction of the Nowy Targ project has just been completed.
The transfer of Nowy Targ is scheduled for the fourth quarter of 2019, and for the first quarter of 2020 for the buildings in the High5ive complex.
SEE ALSO : Globalworth buys two office buildings in Poland for €170m