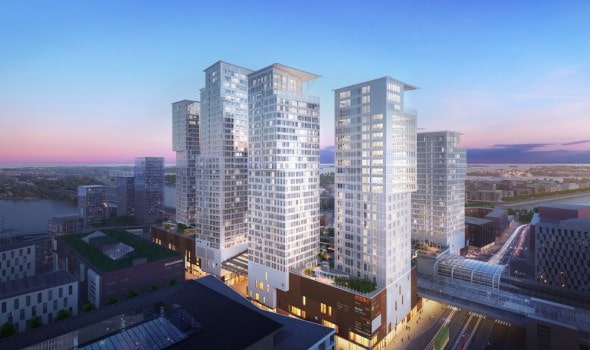 Nordic real estate investment company Niam has agreed to acquire a development project called Kalasataman Horisontti, Finland's first office skyscraper, from Finnish property developer SRV.
The 26-storey office skyscraper will be the tallest office building in Finland.
Horisontti will be located on top of the northwest corner of the REDI shopping centre, and it will have unobstructed views to the south and west towards the centre of Helsinki and the sea beyond.
Horisontti will rise to a height of 111 metres above sea level. Floors 5-26 of the tower will have a total of around 11,500 square meters of leasable office space.
SRV will also move its own offices in the Helsinki metropolitan area to Finland's tallest office building upon its completion
Antti Muilu, country manager for Niam Finland, noted: "We are very happy to acquire Kalasataman Horisontti and together with SRV support the transition to more environmentally friendly building development and sustainable property ownership. The premises will offer the tenants and visitors a unique experience and a reason to come to the office. Through this project Niam and SRV will create a magnificent landmark building that will meet the qualitative and functional requirements of users now and in the future."
Saku Sipola, President & CEO of SRV, states in a press release: "It's great to be able to start up the construction of this project with Niam after the long joint development phase. Launching Horisontti right now shows that there is demand for a unique tower construction concept in the business premises market even in the current market situation."
The premises will be adaptable in terms of state-of-the-art building systems, enabling high energy-efficiency, adaptable premises, suitability for multiple purposes and a working environment that supports well-being and interaction. The 24th floor of Horisontti will also feature the highest scenic restaurant in the Helsinki metropolitan area. The restaurant – open to everyone – will boast views over the Helsinki metropolitan area all the way to Tallinn.
Construction work will begin in April 2023 and will be completed in spring 2025. SRV is to secure a LEED Platinum certification for Horisontti.