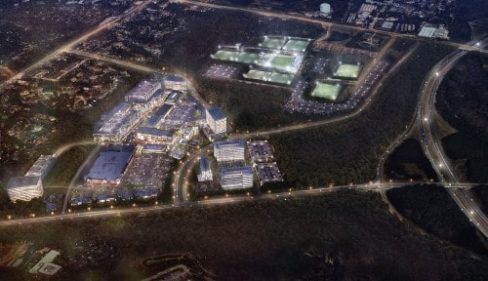 Hines, the international real estate firm, along with co-developer Columbia Development Group, LLC and USAA Real Estate, will build a new 69-acre mixed-use district in the Cary submarket of Raleigh/Durham, North Carolina.
The development, Fenton, will offer 2.5 million square feet of retail, office, restaurant, hotel and multifamily. The initial phase will consist of a 99,000-square-foot Wegmans store; 263,000 square feet of specialty and experiential retail, including a movie theater and food hall; a 146,400-square-foot loft office; 350 apartment units; and a 175-key hotel.
Fenton will be located along Cary Town Boulevard at I-40, Town of Cary, Wake County, North Carolina, adjacent to the Wake Med Soccer Park. The highly-amenitized development is proximate to the regional job engine, the Research Triangle Park, as well as many of the area's best residential neighborhoods and public and private schools.
"Fenton will create a unique, compelling destination for Triangle residents, with uncommon synergies between residential, office and experiential retail, and will fill a dining and entertainment void in the rapidly growing, affluent Cary market," stated Hines Senior Managing Director Kurt Hartman.

"We are thrilled to have been chosen as the home for Fenton and can't wait for all the jobs and opportunities it will bring to our community for decades to come," said Mayor of Cary Harold Weinbrecht.

Fenton's cosmopolitan mix of shopping, dining and entertainment has attracted notable tenants that include: Crawford Brothers Steakhouse, a new concept from five-time James Beard Award semifinalist Scott Crawford, Superica Tex-Mex by nationally-renowned restaurateur Ford Fry and Honeysuckle Gelato.

"On behalf of the Columbia Development team, we would like to extend our deepest gratitude to the State of North Carolina, the State Property Office, the Town of Cary, Wegmans, and entitlement team of Parker Poe Adams & Bernstein, McAdams, Drake Commercial Properties and Wakefield Beasley & Associates for their tireless efforts in assisting us to bring this project to fruition. We are humbled and grateful to have attracted world class partners in Hines and USAA Real Estate to take the next steps in creating a region-shaping project for generations to enjoy," said Abbitt Goodwin, principal with Columbia Development.

"Likewise, we are enthusiastic about launching this partnership with Hines and Columbia Development to build this exciting mixed-use district in the Town of Cary," stated Hailey Ghalib, executive managing director for USAA Real Estate. Edmund Donaldson, executive managing director for USAA Real Estate also commented "This transaction reinforces USAA Real Estate's build-to-core strategy of investing in Class A, mixed-use projects in high-demand areas."
HFF, one of the largest and most successful commercial real estate capital intermediaries, was engaged by Hines and Columbia Development to raise capital for the project, which is expected to break ground in the summer of 2019 with an opening in the fall of 2021.
---
SEE ALSO : Hines plans to invest in German logistics sector
---
Source:Hines / https://www.fentonnc.com/