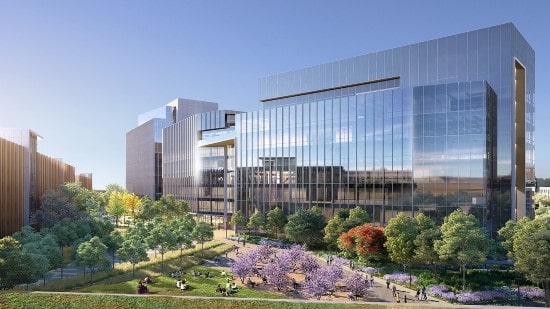 BioMed Realty ("BioMed") announced that Amgen will occupy BioMed's Gateway of Pacific campus in South San Francisco under a new long-term lease for 240,000 sq. ft. Founded in 1980 and headquartered in California, Amgen is one of the world's leading biotechnology companies committed to unlocking the potential of biology for patients suffering from serious illnesses. The new location will house Amgen's Bay Area scientists and employees focused on cardiometabolic, inflammation and oncology research.
In addition to Amgen, BioMed recently announced significant leases with leading innovation companies, including: Apple Inc. for the entire 204,000 sq. ft. ground-up APEX development in San Diego's premier University Towne Centre submarket, and Zymergen, a leading science and material innovation company, for 304,000 sq. ft. to relocate its headquarters to BioMed's Emeryville Center of Innovation in the Bay Area.
"Since October we have leased 750,000 sq. ft. of new Class A space in California to top tier companies, all of which represents net absorption in our robust development pipeline," said Tim Schoen, President and CEO of BioMed Realty. "We continue to invest in the core life science markets in our mission to support industry expansion and regional economic development. With the support of Blackstone, we have committed $2.6 billion of investments in California alone to develop new buildings and modernize existing properties."
BioMed now leases over 6.7 million sq. ft. of space to 130+ companies in California, including the landmark Gateway of Pacific campus located at the front entrance to South San Francisco's life science hub. Gateway of Pacific is a state-of-the-art campus purpose-built to allow for mission critical life science research in a modern, amenity-rich environment, aimed to help BioMed's clients attract and retain top talent. Two S&P 500 life science companies – AbbVie and Amgen – have leased a total of 720,000 sq. ft. at the campus.
"The fundamentals of the Bay Area life science industry are stronger than ever as we continue to provide real estate solutions to fit the needs of top-tier innovation companies," said Jon Bergschneider, BioMed's EVP and Chief Development Officer. "Having a company of Amgen's stature join the Gateway of Pacific community further adds to the significance of the life changing research taking place on this unique campus."
Designed to high sustainability standards targeting LEED certification, Gateway of Pacific includes 1.3 million sq. ft. currently under construction in three phases:
AbbVie, one of the leading research-driven biopharmaceutical companies globally, leased 94% of the 509,000 sq. ft. Phase I, of which BioMed has substantially completed the shell and

core

.
Phase II includes 440,000 sq. ft. of

Class A

lab and office space in two interconnected towers. The entire north tower representing 55% of Phase II is now leased to Amgen, which premises are scheduled for occupancy in early 2022.
Phase III, which recently commenced construction, will bring an additional 350,000 sq. ft. of

Class A

lab and office space to the campus.
Gateway of Pacific also includes Traverse, a 50,000 sq. ft. architecturally distinctive amenities center that offers multiple dining options, a health club and spa, informal gathering spaces and a variety of outdoor recreational areas, all within easy walking distance of all buildings on the campus.
View source version on businesswire.com: https://www.businesswire.com/news/home/20191209005206/en/BioMed-Realty-Welcomes-Amgen-Gateway-Pacific-Campus