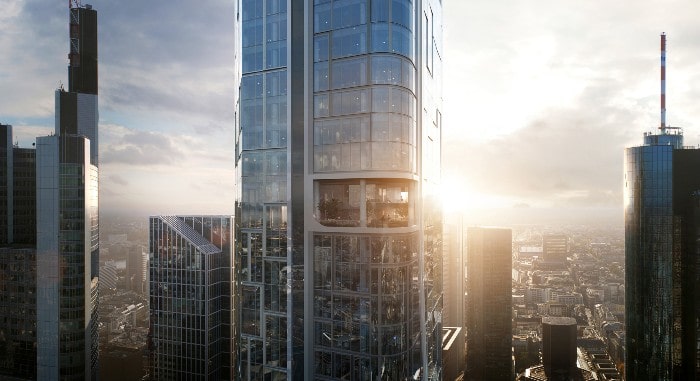 A joint venture between several Allianz group companies and a Universal-Investment fund domiciled in Luxembourg, administered on behalf of German pension fund Bayerische Versorgungskammer (BVK-Fund), is acquiring Tower 1 of the new FOUR development in Frankfurt.
Allianz Real Estate has completed the forward deal to acquire the office tower development on behalf of the joint venture.
The €1.4 billion property, which is being constructed in the heart of Frankfurt's banking district, is the largest single-asset deal in Germany so far in 2021.
This is the second such joint venture between Allianz and BVK-Fund, following the forward deal in 2019 to acquire the EDGE East Side Tower in Berlin.
Developed by Gross & Partner, one of the most experienced developers in Germany, FOUR T1 is a 233-meter high-rise building offering more than 82,500 sqm – of which 74,800 sqm will be offices – across its 54 floors.
It will be the third-tallest skyscraper in Frankfurt and, with its efficient floor plates, high fit-out standards and smart technologies, is considered by many to be one of the top office towers in the city. Two-thirds of FOUR T1's office space has already been pre-let four years before its completion to high-quality tenants from, amongst others, the banking and consultancy sectors, underlining the high attractiveness of the asset and its location.
On completion in 2024, Allianz Real Estate and Gross & Partner will look to achieve Germany's highest sustainability certification with the asset: DGNB Platinum in combination with its classification as a 'Vertical City'.
FOUR T1 is part of a highly visible urban development, being built to a work-live-play concept, consisting of four towers on a unified platform. Within FOUR T1 will be a large food hall, convenience store and café, a kindergarten and a range of rooftop terraces. The other three towers in the development will offer residential units and condominiums, a design hotel and office space.
"This is a landmark acquisition in every sense. It demonstrates our ability to source the best assets for our investors and emphasizes our continued conviction towards prime, future-oriented offices. FOUR T1's combination of intelligent technologies and focus on sustainability will offer its users unmatched comfort and well-being while also contributing to our target to reduce carbon emissions across our real estate portfolio by 25% by 2025 and be carbon net-zero by 2050," said Annette Kröger, CEO North & Central Europe at Allianz Real Estate.
"We are delighted to once again invest with our proven partner Allianz in this landmark asset. The FOUR ensemble and in particular Tower 1 will set new standards in real estate in all aspects. I am sure that many investors will envy us for this outstanding investment. The property fits in perfectly with our future strategy and expands our portfolio, which is already well positioned," added Felix Becker, Real Estate Investment D-A-CH at Bayerische Versorgungskammer (BVK).