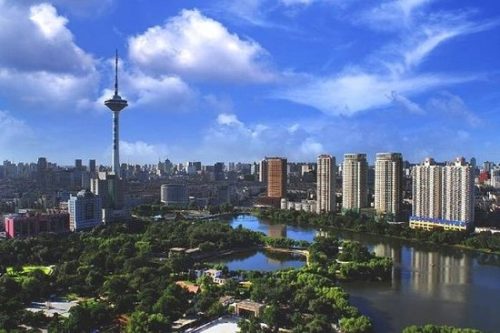 China's Wanda Group announced that it has signed a strategic agreement with the municipal government of Shenyang, the capital city of Liaoning Province in Northeastern China.
Wanda Group will invest 80 billion yuan (US$11.6 billion) in Shenyang city to build a world-class cultural tourism project, a world-class international hospital, a world-class international school and five Wanda Plazas.It has already invested 25 billion yuan (US$3.6 billion) in the city.
As the earliest company that invested in China's northeast with the biggest investments, Wanda's projects almost cover the entire northeast region. During the signing ceremony, Chairman Wang said from the bottom of his heart that Shenyang will take the lead in the revitalization of China's northeast.
The large-scale cultural tourism project will occupy an area of 4000 mu which includes a cultural tourism city, sports park and a cluster of vacation hotels. The international hospital will have a floor space of 400,000 square meters offering medical, rehabilitation and healthy lifestyle services. The hospital will be run by top international hospital management teams and technical experts. The international school will introduce top-notch primary and middle school educational brands to build a 12-year boarding school. The five Wanda Plazas will be located in areas such as Shenbei and Dadong to fill the void that there is a lack of large-scale modern commercial facilities.
Wanda's 80 billion yuan investment in Shenyang is one of the biggest investments in Shenyang in recent years. International hospital, international school and large-scale cultural tourism project in particular will propel Shenyang to become a national central city.
---
RECOMMENDED : China's commercial real estate investment hits record high
---
Source:WandaGroup