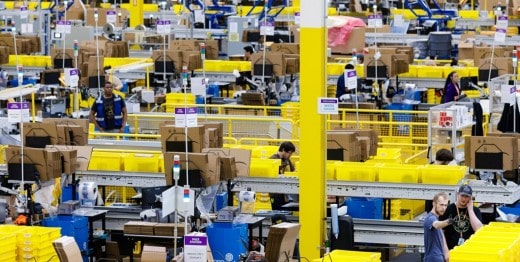 Amazon plans to open a fulfillment center in Channahon, Illinois, creating more than 500 new, full-time jobs starting at $15 an hour.
Employees at the more than one million-square-foot fulfillment center will pick, pack and ship large customer items, such as sports equipment, patio furniture, fishing rods, pet food, kayaks, bicycles, and larger household goods.
Amazon currently employs more than 11,000 full-time associates throughout the state of Illinois.
"Illinois is a great place to do business and we are excited to continue our growth and investment in the state with our new fulfillment center in Channahon," said Alicia Boler Davis, Amazon's Vice President of Global Customer Fulfillment.
"Since 2010, Amazon has invested more than $4 billion in the state through its local fulfillment center and cloud infrastructure, research facilities, and compensation to thousands of employees in the state. We are excited to create more than 500 new full-time jobs, in addition to the 11,000 current employees across the state, who receive industry-leading pay and benefits starting on day one."
"This significant jobs announcement is another sign that Illinois' future is bright, and I'm excited to see Amazon build on its investment in Illinois with 500 new jobs in the south suburbs," said Governor JB Pritzker.